Despite rising interest rates, real estate inventory has yet to catch up to demand. Higher interest rates will certainly push some buyers out of the market, but with so many qualified buyers looking for a home, homes are still selling, though not nearly as fast as they were only a few months ago. If buying a home is on your agenda for 2022 – 2023, here's how you can compete!
"If a home is properly presented and priced competitively in this market, you are going to be seeing multiple offers. That's just the way the market is right now. It's still a seller's market!"

Karen Anderson, Broker and team lead of The Prestige Team at Keller Williams – LA Harbor in Rancho Palos Verdes.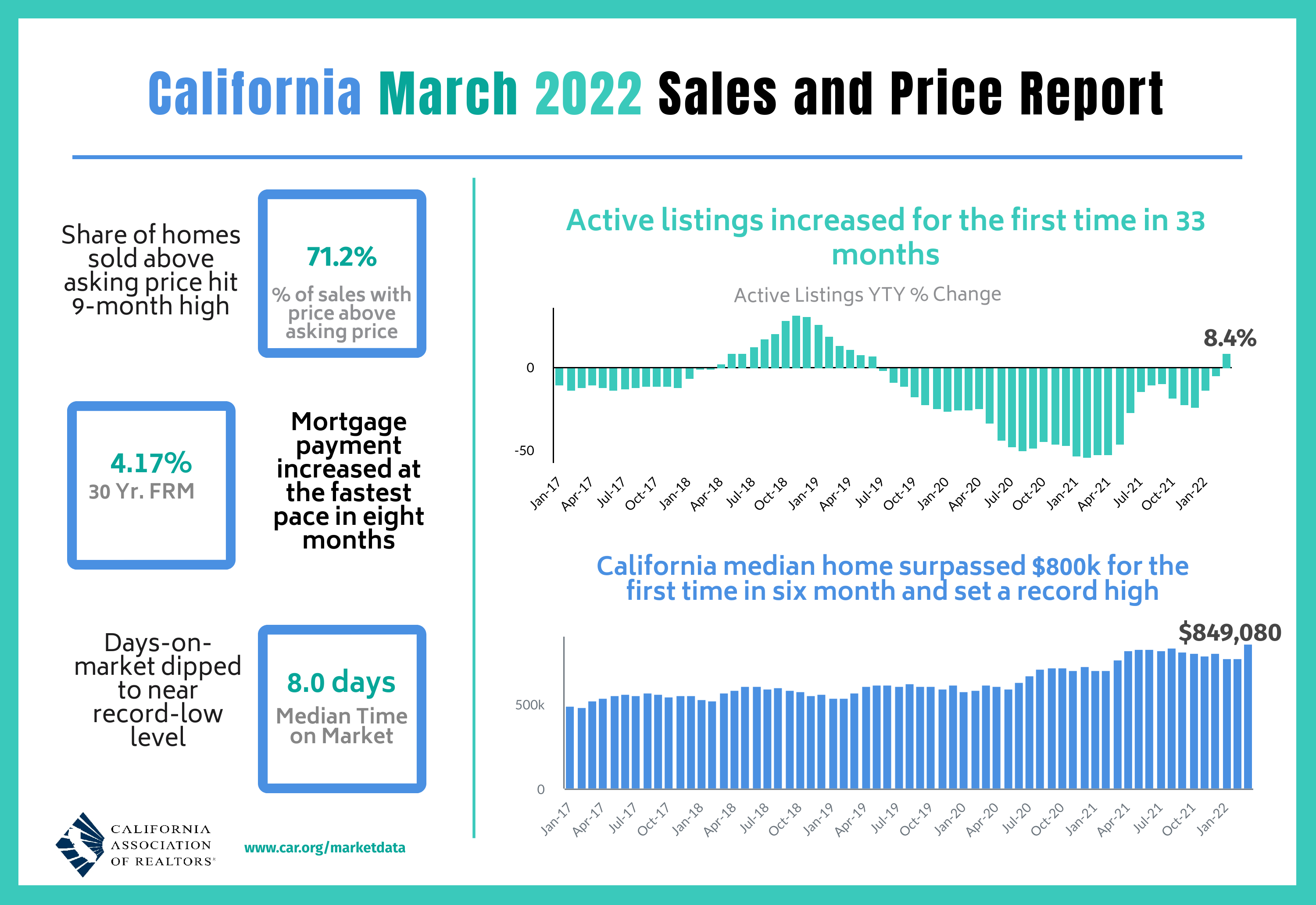 Karen's statements are supported by market data reports generated by the California Association of Realtor's (CAR). You can see the median home price in March '22 jumped significantly, but topped out in May and has been decreasing ever since. Inventory, days on market, and interest rates are all up, and overall it appears the market is slowing down to a more normal pace, as shown in the second graphic for August '22. Days on market alone jumped from only 8 days in March to 19 days in August.
Despite these changes, the market will remain somewhat competitive and thus it is all about standing out from the other buyers to be the winning offer.
To give our buyers the best chance of getting their offers accepted in competitive markets, we recommend the following:

Know the market, know your leverage
The change in interest rates has caused many buyers to back out from the market, as monthly payments increased significantly, especially for buyers with lower down payments. With fewer buyers in the market, sellers are now losing some of the leverage they've had on the market for the last several years, and this gives buyers that can still buy property an opportunity to negotiate.
Manage your expectations
Just a year ago we would not have recommended asking for closing costs or making similar requests. This year it is a different market, and for buyers that are still searching, that is a good thing! Yes, properties are seeing reductions in asking price, but that doesn't mean that every home is worth $50,000 less than its asking price.
Although there are not as many buyers in the market compared to last year, we are still in a seller's market and good properties will always move quickly, and often receive attention from multiple buyers. Managing your expectations is a key tactic when strategizing your home search.
Double-check your purchasing power
Interest rates can have a drastic impact on your monthly payment, so it is especially important to keep in touch with your lender so you can stay up to date on your payment estimate.
Here is an example of how rates can change your payment on a $500,000 purchase with 10% down:
Mortgage Calculator
| | | |
| --- | --- | --- |
| Interest Rate | 5.75% | 6.75% |
| Principal & Interest | $2,626.08 | $2,918.69 |
| Insurance | $145.83 | $145.83 |
| Taxes | $508.75 | $508.75 |
| Mortgage Insurance | $168.75 | $168.75 |
| Total Payment | $3,449 | $3,742 |
So a 1% change in the rate resulted in approximately $300 additionally per month. The higher your loan amount, the more your payment will be affected by rates. Although high rates can be difficult to look past when purchasing a home, one advantage is that some sellers are willing to work with buyers on their financing.
Sellers Helping with Buyer Financing
With limited buyers and inventory steadily increasing, sellers that are in a situation where they need to sell may be willing to work with the right buyer with regard to their financing. This can happen in several different ways, such as seller financing, paying for closing costs, buying down the interest rate, and even lender-required repairs on the property.
In previous years, sellers would shy away from buyers with FHA and VA offers because of the potential for lender-required repairs to the property, such as chipping paint, damaged floors, functioning heat, or termite issues. They would usually go with a clean offer. However, in this market, most sellers will not have the luxury of multiple offers, so if they are in a position where they need to sell, they will make the right concessions.
Asking for the Right Concessions
Although price plays one of the biggest roles when selecting an offer to accept, it is not the only variable that gets taken into consideration. The best offer and the highest offer are not always the same. A good listing agent will help identify the offers that are most favorable to the seller, not only the financial aspects of the offer but the terms as well.
Asking for the right concessions can make all the difference when submitting offers in this market. As mentioned before, sellers are much more open to performing repairs or taking FHA or VA offers. Closing cost credits, buying down interest rates or points, and repair requests are all concessions that are appropriate in this market. What and how much to ask for will vary depending on the buyer and the property. Want to learn more? Work with us!
Work with The Prestige Team
As a top-rated Real Estate Team, Karen Anderson and The Prestige Team close 60+ homes per year, so we get a first-hand feel for what the market is doing. Acclimating our buyers to the current market is one of the most important things we do to improve your buying experience and chances of getting your offer accepted.